Lowest Price in Home and Kitchen
Appliances in Toronto, ON.. Guaranteed!
Toronto Showroom
(416)782-5900
120 Cartwright Ave
,
Toronto
,
ON
M6A 1V2
(
Store info
)
Mississauga/Brampton
(905)766-3417
600 Matheson Blvd West
,
Mississauga
,
ON
L5R 4B8
(
Store info
)
Reviews for Electrolux™ E36DF7CGPS Range
Electrolux Icon E36DF7CGPS Freestanding Duel Fuel Range, 36 in, 6.4 cu.ft, with 6 Sealed Burners, Convection Oven, Smooth-Glide Oven Racks and 6 inch Stainless Steel Backsplash

Authorized Dealer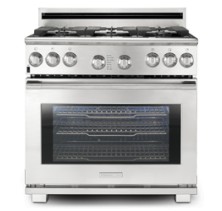 + Enlarge Picture
Condition:
Brand new, In original manufacturer packaging.
E36DF7CGPS

Stainless Steel

Visit Store For Sale Price!

Additional in-store discounts
Manufacturer Warranty
Product covered with full Canadian manufacturer warranty. Minimum 1 year in home repair, parts & labor included.
Electrolux E36DF7CGPS Reviews
This product has not been reviewed. Be the first to review it!