Lowest Price in Home and Kitchen
Appliances in Toronto, ON.. Guaranteed!
Fri 10am - 4:30pm
Toronto Showroom
(416)782-5900
Fri 10am - 4:30pm
Mississauga/Brampton
(905)766-3417
Store info >
600 Matheson Blvd West
,
Mississauga
,
ON
L5R 4B8

Authorized Dealer
LG™ WT1101CW Washer
LG WT1101CW Top Load Washer 5.0 cu. ft. Capacity, 8 Wash Cycles, 10 Options, SmartDiagnosis, SmartRinse with Jet Spray, SlamProof Lid, Stainless Steel Drum and Direct Drive Motor
Color: white
| | |
| --- | --- |
| Submit | Next Day Delivery Available!* |
Black Friday Now!

Regular Price:
$899.99
23% Off:

Ends Nov. 28

-$202.99
Today's Price: $

697.00

Free Gift with Purchase

Free Gift

Free

with a purchase of

$7,999.00

or more*

Free

with a purchase of

$6,999.00

or more*

*Before Taxes, Delivery, Additional Services and Warranty. Select products excluded, Certain Conditions apply.
2 Years:
$89.99
, 4 Years:
$139.99

Printer Friendly
Washer & electric dryer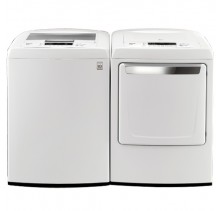 white
$1,284.00 CAD
Description
Features
Specifications
Literature
Accessories
Rebates
Description
LG WT1101CW Top Load Washer 5.0 cu. ft. Capacity, 8 Wash Cycles, 10 Options, SmartDiagnosis, SmartRinse with Jet Spray, SlamProof Lid, Stainless Steel Drum and Direct Drive Motor
You'll love using this beautiful, environment-friendly LG top-loading washer. Top loading means less bending, and a 5 cubic capacity means more clothes per wash. That mountain of towels and overflowing clothes basket will be emptied much more quickly, and with the Energy Star rating, you'll spend less money per wash.
The LG top-load washer is easy to use. Gone are the clunky, confusing dials and knobs. The front control panel with LED display makes the settings easy to find and easy to use. The 2-in-1 dispenser makes adding detergent, beach, and fabric softener simple and mess-free. The water level automatically adjusts to load size, so you don't have to worry about wasting money or estimating load size. That knocking sound that sends you running to the laundry room is a thing of the past with LG's TrueBalance Anti-Vibration System. Ad if you do have a problem with your washer, Smart Diagnosis means your machine can transmit data by phone to the customer service information center. Imagine, an easy-to-use washer that calls the repairman itself!
Saving energy and money are a top priority for most appliance-buyers. This LG washer is designed to do both. In addition to sensing load size, this machine is designed to save water by using SmartRinse with Jet Spray in the cotton/normal and heavy duty cycles. Its load sensing and clean sensing capabilities reduce wasted energy as well. And of course the best way to save money is to buy a washing machine that will last. LG's Direct Drive Motor uses fewer moving parts, which makes it operate more efficiently. Because of this, LG back its motor with a 10-year limited warranty.
You don't have to pick and choose with this washer either; it comes with lots of options. There are a variety of wash and rinse temperatures to choose, from Hot, to Eco Warm, to Tap Cold. Extra high, high, medium, and low spin speed options can help you keep your fabrics in top shape; there's even a no spin option. A status indicator lets you know how long your cycle will take, and the end of cycle signal lets you know when it's time to dry. Unlike other washers, the LG also has a LoDecibel Quiet Operation to reduce noise while the washer is working. And there are seven different washing programs, each suited to give your fabrics a thorough and safe cleaning.
Whether you're washing a bulky bedspread or you favorite silk blouse, the LG top-loading washing machine offers an energy-efficient clean at a great price that will lower your energy bills and keep you laundry looking great.
Product description created exclusively for Canadian Appliance Source. All rights reserved.
Features
5.0 CU.FT. Capacity With Neverust Stainless Steel Drum
Directdrive Motor With 10 Year Warranty
Smartdiagnosis
Smartrinse Jet Spray System
TAKE CONTROL OF YOUR LAUNDRY

Goodbye clunky dials and knobs. With the new Easy Front Panel, the controls are readily accessible in the front of the washer. As if that's not enough, the sleek modern design allows you to find the right settings in no time.

THE HOTTEST THING IN COLD

Now using the cold cycle on your washer doesn't mean compromising on how clean your clothes are. ColdWash technology uses cold water and enhanced washing motions to penetrate deep into fabrics, giving you cold-water savings with warm-water performance.

MORE FREE TIME

Towers of towels, piles of sweatshirts, and a mountain of jeans? Go for it. The ultra large capacity (5.0 cu.ft.) washer lets you do more laundry in fewer loads. That's time well saved.

COUNT ON IT

When you buy a washer, you don't want to worry that it won't last. Because the Direct Drive Motor uses fewer moving parts and operates more efficiently, LG confidently backs the motor with a 10-year warranty.

CALL, CONNECT, RESOLVE

SmartDiagnosis uses self-diagnosing technology that can communicate 24/7 with LG customer service over the telephone providing you with comfort and reliability.

NO SNAGS

Instead of a bulky, inefficient agitator, this washer has a low-profile, highly-efficient impeller. And both the NeveRust impeller and wash tub are made of durable stainless steel, avoiding nicks that can snag fabrics.
Specifications
Type
Top Loader
Yes
Design Look
Front Control
Front Electronic Control Panel with LED Display
Yes
Capacity
IEC 5.0 cu.ft.
Dry Linen Capacity
>10.1kg
Energy
Energy Star
Yes
Wash Programs
8 Programs
Cotton/Normal, Bulky/Bedding, PureColor™ , Speed Wash, Heavy Duty, BrightWhites™ , Delicates, Tub Clean
10 Options
Rinse+Spin, Spin Only, ColdWash™ , Soak, Extra Rinse, Fabric Softener, Child Lock, Custom Program, Signal On/Off, Delay Wash (up to 19 hours)
5 Wash/Rinse Temperatures
Hot, Warm, Eco Warm, Cold, Tap Cold (All Cold Rinses)
Spin Speeds
Extra High (1100 max.), High, Medium, Low, No Spin
No. of Water Levels
Automatically adjusts to the size of load
No. of Soil Levels
3
Fabric Care Features
ColdWash™
Yes
SmartRinse™ Jet Spray System
Yes
SenseClean™ System
Yes
Convenience Features
3 Tray Dispenser
Main Wash, Fabric Softener, Liquid Bleach
TrueBalance™ Anti-Vibration System
Yes
SmartDiagnosis™
Yes
SlamProof™ Lid
Yes
Load Sense
Yes
Status Indicator(s)
Yes
End of Cycle Signal
Yes
Child Lock
Yes
Auto Suds Removal
Yes
Forced Drain System
Yes
Leveling Legs
4 Adjustable Legs
LoDecibel™ Quiet Operation
Yes
Motor and Agitator
Motor Type / Motor Speed / Axis
Direct Drive / Variable / Vertical
Materials and Finishes
NeveRust™ Stainless Steel Tub
Yes
Cabinet
Painted Steel
Control Panel
Plastic
Top Cover
Plastic
Diamond Glass Lid
Yes
Available Colours
White (W)
Power Source
Ratings / Electrical Requirements / Type
UL Listed / 120V, 5 Amps / Electric
Dimensions
Product WxHxD
27" x 40 5/32" x 28 13/32" (54 1/3" H with lid open)
Carton WxHxD
29 1/2" x 43 7/10" x 31 1/3"
Weight (Product/Carton)
132 lbs/149.6 lbs
Upc Codes
WT1101CW
772454 060540
Warranty
Warranty
1 year parts and labour, 5 years part on Drum, 10 years part on DirectDrive™ Motor
Rebates
There are currently no rebates available for this product.
$1,498.00 CAD
$898.00 CAD

$1,498.00 CAD
$898.00 CAD

Featured Reviews
Author: AlixMan, 10/20/2014
I really like our new washer. My clothing seem much more clean and bright. It's very quiet. It has a very big basket, that handles large loads easily. Top investment in a washing machine we've ever made.
Would recommend? YES
---
Author: Walter3445 from Niagara Falls, Ontario, 10/8/2014
I got this washer several weeks ago and don't have any complaints. It cleans the garments and spins out the majority of the water which decreases the dryer time. Easy to use. I like the fast clean feature.
Pros: Performance, ease of use, Features/Settings, Quality
Would recommend? YES
---