Lowest Price in Home and Kitchen
Appliances in Toronto, ON.. Guaranteed!
Mon 10am - 7pm
Toronto Showroom
(416)782-5900
Mon 10am - 7pm
Mississauga/Brampton
(905)766-3417
Store info >
600 Matheson Blvd West
,
Mississauga
,
ON
L5R 4B8

Authorized Dealer
GE™ JES1140STC Microwave
G.E. JES1140STC Countertop Microwave, 21 1/4in, 1.1 cu.ft, with Child Lock-Out, Cooking Complete Reminder and 10 Power Levels
Color: Stainless Steel
| | |
| --- | --- |
| Submit | Next Day Delivery Available!* |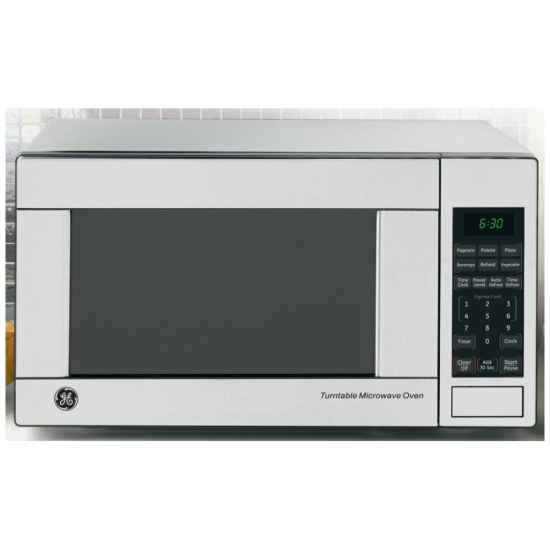 Regular Price:
$159.00
14% Off:

Ends Nov. 24

-$22.00
Today's Price: $

137.00

Free Gift with Purchase

Free Gift

Free

with a purchase of

$7,999.00

or more*

Free

with a purchase of

$6,999.00

or more*

*Before Taxes, Delivery, Additional Services and Warranty. Select products excluded, Certain Conditions apply.
2 Years:
$69.99
, 4 Years:
$109.99

Printer Friendly
Description
Features
Specifications
Literature
Accessories
Rebates
Description
The sleek stainless steel countertop GE JES1140STC microwave is the perfect cooking and reheating appliance to add style and incredible microwave cooking performance to your kitchen. Its large 1.1 cubic-foot capacity cavity makes it quick and easy to cook and reheat full plates of food at once. GE provides you with complete control of over the power the power of your microwave with its electronic control panel, 10 power levels, and 6 cooking codes. If you are looking for a powerful microwave that looks great and deliver outstanding cooking results, look no further than this GE countertop microwave oven.
This revolutionary stainless steel GE microwave fits perfectly onto your countertop or microwave stand providing you with easy to reach access to your foods. The 21 ¼-inch microwave consumes a small amount of counter space to provide you with a large 1.1 cubic-foot capacity interior oven cavity.
The large 1.1 cubic-foot capacity cavity provides you with plenty of room to cook and reheat full plates of food in minutes. To help your foods achieve even, uniform cooking results, this microwave features a glass turntable. This glass turntable rotates your foods around the interior of the microwave cavity in a circular motion eliminating hot and cold spots from altering cooking and reheating results.
To help you select the ideal power level and cook program for your food, the GE JES1140STC features a beautiful black electronic touch control panel with blue LED display. This control panel provides you with push button access to each of the power levels, and the six cook programs including beverage instant-on, pizza instant-on, popcorn instant-on, reheat instant-on, add 30 seconds, and more.
The instant-on programs take the guesswork out of the heating and reheating your favorite food items. There is nothing more convenient than simply pushing a button to have hot coffee in a minute or two, or pressing one button to add 30 seconds to the cooking time of cooking time in progress.
This advanced GE microwave even offers an auto on defrost or timed defrost features. On those days that you forget to pull food from the freezer for dinner, do not worry, GE will return frozen food items to original thawed state in a few minutes.
Just in case you walk into the other room while your microwave is on, GE included a cooking complete reminder. So if you do not hear the cooking time end, this GE microwave will beep to alert you the food is ready and waiting for you. The last thing you want to do is reheat leftovers from last night's dinner to have to reheat them a second time.
If you are looking for a high-performance microwave that looks great in your kitchen, and provide a cooking performance that is second to none, the GE JES1140STC microwave is just for you. This dazzling stainless steel microwave enhancing the look of the kitchen while offering a large 1.1 cubic-foot capacity cooking cavity with 10 power levels and 6 cooking codes.
Product description created exclusively for Canadian Appliance Source. All rights reserved.
Features
1.1 cu. ft. Oven Capacity
Style Full-Size
Cooking Complete Reminder
Child Lock-Out
Specifications
Capacity
Oven Cavity (cu. ft.)
1.1
Convenience Controls
Beverage
Instant-on
Cook
6 codes
Pizza
Instant-on
Popcorn
Instant-on
Reheat
Instant-on
Features
Electronic Touch Controls
Yes
Install Location
Countertop
Style
Full-Size
Watts IEC-705 Test Procedure
1100
Electronic Digital Display w/Clock
Yes
Time Preference
Control Enhancement (1/9)
Add 30 Seconds
Yes
Defrost Type
Auto & Time
Micro / Time Cook
I & II
Power Levels
10
Child Lockout
Yes
Reminders / Signals / Timers
Cooking Complete Reminder
Yes
Kitchen Timer / Timer (On/Off)
Yes / No
Turntable
Turntable
Glass
Appearance
Case Colour
Stainless Steel
Colour Appearance
SS
Door Colour
Stainless Steel
Weights & Dimensions
Approximate Shipping Weight (lbs)
41
Overall Depth (excluding handle)
15 3/4
Overall Height
11 3/4
Overall Width
21 1/4
Electrical Requirements
Electrical Input @ 120V Amperage
13.5
Electrical Input @ 120V Watts
1530
Frequency (MHz)
2450
Literature

Download Warranty/Use and Care
Rebates
There are currently no rebates available for this product.
Featured Reviews
Author: Luan Cardoso Correia from Calgary, AB , 11/4/2014
While we have always owned a microwave, I have always avoided using it. There is nothing more I hate than the taste of microwaved food, it is always dried out, hard, rubbery, and just over all unsatisfying. However, after my oldest song put his baseball bat through out old microwave by accident, we had to buy a new one.

We chose the GE JES1140STC. I could not be happier. For the first time in my life, my microwaved food does not taste like it came out of a microwave.
Would recommend? YES
---