Lowest Price in Home and Kitchen
Appliances in Toronto, ON.. Guaranteed!
Wed 10am - 7pm
Toronto Showroom
(416)782-5900
Wed 10am - 7pm
Mississauga/Brampton
(905)766-3417
Store info >
600 Matheson Blvd West
,
Mississauga
,
ON
L5R 4B8

Authorized Dealer
KitchenAid™ YKHMS2040BS Microwave
Kitchen Aid YKHMS2040BS Over the Range Microwave, 30 in, 2.0 Cu.Ft, with 10 Power Levels, 300 CFM, Quick Defrost Cycle, Popcorn Cycle and Auto-cook, reheat, and defrost cycles
Color: Stainless Steel
| | |
| --- | --- |
| Submit | Next Day Delivery Available!* |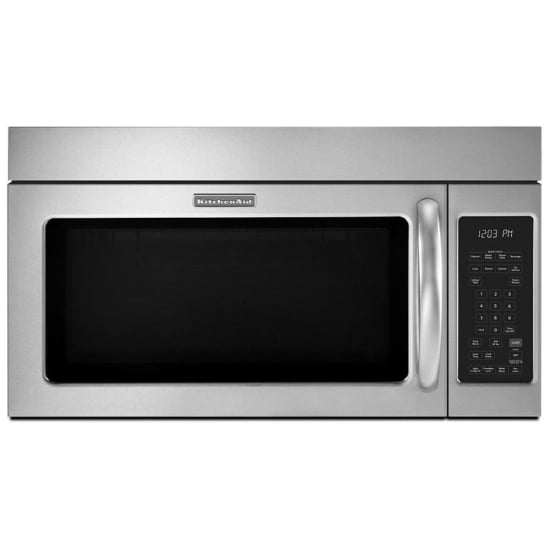 Black Friday Now!

Regular Price:
$749.00
8% Off:

Ends Nov. 26

-$60.00
Today's Price: $

689.00

Free Gift with Purchase

Free Gift

Free

with a purchase of

$7,999.00

or more*

Free

with a purchase of

$6,999.00

or more*

*Before Taxes, Delivery, Additional Services and Warranty. Select products excluded, Certain Conditions apply.
2 Years:
$89.99
, 4 Years:
$139.99

Printer Friendly
Description
Features
Specifications
Literature
Accessories
Rebates
Description
The versatile KitchenAid YKHMS2040BS 30-inch, 2.0 cubic-foot capacity over-the-range microwave is equipped with a convenient built-in ventilation system. Its ventilation system motor exhausts up to 300 CFM, with three speeds for adjustable venting that matches your cooking needs. With KitchenAid's sensor cooking and True 10-level power control, hot and cold spots are eliminated, preventing foods from undercooking or having burnt edges.

The KitchenAid YKHMS2040BS microwave conveniently installed over most ranges; removing the microwave from the countertop. This stylish, space-saving appliance provides a 2.0 cubic-foot cooking cavity while adding beautiful stainless steel accents to the kitchen.

This powerful 1000-Watt microwave features a stoppable glass turntable. When the turntable is switched on, it rotates foods around the interior of the microwave cavity in a circular motion. The constant circular motion promotes more even, uniform cooking results, while ensuring there are no cold spots.

KitchenAid works hard to provide outstanding cooking results from the microwave. To promote impeccable cooking results, this microwave features several sensor features: auto-cook, reheat, defrost cycles, quick defrost cycle, and soften and melt cycles.

The YKHMS2040BS auto-cook feature uses built-in sensors to adjust the time and power level automatically based on the quantity, weight, and humidity released. Thanks to this microwave's innovative sensor cooking feature, foods with come out better than ever before.

The reheat function of this advanced microwave uses built-in sensors to monitor the humidity level being put off by the food. Through monitoring the humidity level in the food, the microwave is able to adjust the time and power level to match the cooking needs.

KitchenAid's defrost cycles, and quick defrost cycle allow you to defrost food within minutes. The defrost cycles use the quantity and weight of the food to determine the ideal time and power level to return foods to their original state within minutes. Its quick defrost cycle allows you quickly defrost up to one pound of frozen food, faster than you imagined. You will no longer need to change dinner plans due to forgetting to thaw food from the freezer.

This microwave soften and melt cycles use a low-power level to delicately soften butter, ice cream, melt chocolate, or other delicate food items. You no longer need to check the microwave every ten seconds to make sure you are not scorching chocolate or burning butter.

For added convenient KitchenAid included an add 30-second button. A quick push of this button on the control panel allows you to quickly and easily add 30 seconds onto the cycle time.

Do not worry, KitchenAid did not forget to include a popcorn sensor! The handy popcorn sensor helps prevent microwave-able popcorn from burning in the microwave, while producing more fully popped popcorn kernels.

If that is not enough, this microwave is equipped with a built-in ventilation system. The ventilation system of the YKHMS2040BS exhausts up to 300 CFM, quickly removing grease, smoke, and odor from the air. It includes one charcoal filter to capture odors, and two grease filters. When it is time to clean the microwave, simply toss the filters into the dishwasher for a fast thorough clean.
Product description created exclusively for Canadian Appliance Source. All rights reserved.
Features
True 10-level power control helps to eliminate cold spots and overcooked edges
Motor exhausts up to 300 CFM and gives versatility to microwave hood combination ovens
Auto-cook, reheat, and defrost cycles adjust cook time and power based on quantity, weight, or humidity released
Quick Defrost cycle allows you to quickly defrost one pound of frozen food
Soften and Melt cycles provide low power for delicate tasks such as softening ice cream or melting chocolate
Popcorn sensor helps prevent microwave popcorn from burning
Add 30 seconds control adds time in 30-second increments during or at the end of a cycle
Specifications
SPECIFICATIONS
Configuration
Microwave Type
Over-the-Range
Capacity
2.0
Performance
Fan CFM
300
Cooking Power Wattage
1000
Quick Touch Settings
Add 30 Seconds, Beverage, Defrost, Dinner Plate, Keep Warm, Popcorn, Potato, Reheat, Soften/Melt, Steam Cook
Sensor Cooking
Yes
Speed Cook
No
Vent Type
Exterior or Recirculating
Style and Extras
Door Style
Left
Work Surface Light
Halogen
Number of Racks
1
Turntable Diameter
12
Grease Filter
Yes
Dimensions
Width
29 15/16
Depth
16
Height
17 1/4
Capacity
Capacity
2.0
Rebates
There are currently no rebates available for this product.
Featured Reviews
Author: Sarah from Ontario, 06/18/2014
This KitchenAid YKHMS2040BS over-the-range microwave is a great appliance to accent your kitchen. I bought this microwave six months ago to free up some counter space.

I was able to handle the installation myself, a 32 year old single woman. I just simply followed the instructions KitchenAid included with the microwave, and everything went smoothly.

Once I had it installed, and began using it, I fell in love with the cooktop exhaust, and sensor cook cycles.
This microwave does everything KitchenAid says it does. And it does it well. I would buy this microwave again, and again.
Pros: ultra quiet
Would recommend? YES
---
Author: Abby from Mississauga, ON, 03/28/2014
I love my new KitchenAid microwave! About 3 to 4 months ago my old microwave died, I decided to try a microwave that installs over the range. Boy was I surprised at how much more convenient it is to have your microwave position right above the range, instead of sitting on a microwave stand.

The quick defrost cycle is my life saver! More often than not, I am guilty of leaving dinner in the freezer until I am ready to prepare the meal. The quick defrost feature allows me to quickly and easily thaw meats in minutes. I honestly do not know how I survived without it before!

Pros: space saver, convenient, great results
Cons: none
Would recommend? YES
---