Showroom Open:
Sunday - Oct 23, 2016(10:00am - 5:00pm)
GE 4- 5- Cu. Ft. Capacity Washers and Washing Machines
Refine Results
Selected Filters
Brands:
Cu. Ft. Capacity:

4 and above
5 and above

Show All
GE GTW485ASJWS Top Load Washer, 26 7/8" Width, Energy Star Efficient, 4.9 Cu. Ft. Capacity, 13 Wash Cycles, 6 Temperature Settings, 800 Washer Spin Speeds (RPM), White colour
Out of Box Price
* In-store purchase only
Available at:
- 600 Matheson Blvd West, Mississauga.
Width:

26 7/8"

Energy Star Efficient:

Yes

Cu. Ft. Capacity:

4.9

Wash Cycles:

13

Temperature Settings:

6
GE GUD37ESMJDG Laundry Center, 27" Width, 4.0 Cu. Ft. Capacity, 11 Wash Cycles, 670 Washer Spin Speeds (RPM), Electric, 27" Exterior Width, 5.9 Cu. Ft. Capacity (Dryers), Diamond Grey colour
Regular Price
$1,849.00
Savings
$491.24
After Savings
GE GFWN1300JWW Front Load Washer, 27" Width, Energy Star Efficient, 4.8 Cu. Ft. Capacity, 7 Wash Cycles, 4 Temperature Settings, Stackable, 1100 Washer Spin Speeds (RPM), White colour
Regular Price
$1,099.00
Savings
$90.00
After Savings
Width:

27"

Energy Star Efficient:

Yes

Cu. Ft. Capacity:

4.8

Wash Cycles:

7

Temperature Settings:

4
GE GFWN1100HWW Front Load Washer, 27" Width, Energy Star Efficient, 4.2 Cu. Ft. Capacity, 7 Wash Cycles, 4 Temperature Settings, Stackable, 1100 Washer Spin Speeds (RPM), White colour
| | |
| --- | --- |
| | |
| Regular Price | $1,099.00 |
| Savings | $200.00 |
| After Savings | |
Width:

27"

Energy Star Efficient:

Yes

Cu. Ft. Capacity:

4.2

Wash Cycles:

7

Temperature Settings:

4
Washer & electric dryer
$1,597.76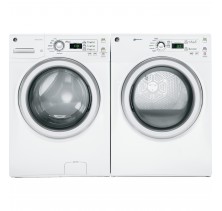 Washer & gas dryer
$1,658.72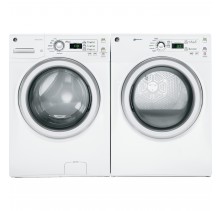 GE GFWS1705HDG Front Load Washer, 27" Width, Energy Star Efficient, 5.0 Cu. Ft. Capacity, 10 Wash Cycles, 5 Temperature Settings, Stackable, Water Heater, 1300 Washer Spin Speeds (RPM), Steam Clean, Diamond Grey colour
| | |
| --- | --- |
| | |
| Regular Price | $1,299.00 |
| Savings | $194.28 |
| After Savings | |
Width:

27"

Energy Star Efficient:

Yes

Cu. Ft. Capacity:

5.0

Wash Cycles:

10

Temperature Settings:

5
Washer & electric dryer
$2,167.44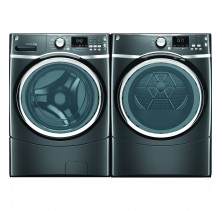 Washer & gas dryer
$2,304.49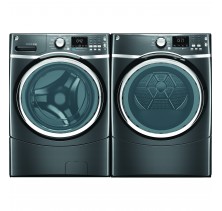 GE GTW810SSJWS Top Load Washer, 28" Width, Energy Star Efficient, 5.9 Cu. Ft. Capacity, 13 Wash Cycles, 6 Temperature Settings, 1000 Washer Spin Speeds (RPM), White colour
| | |
| --- | --- |
| | |
| Regular Price | $1,299.00 |
| Savings | $199.17 |
| After Savings | |
Width:

28"

Energy Star Efficient:

Yes

Cu. Ft. Capacity:

5.9

Wash Cycles:

13

Temperature Settings:

6
Washer & electric dryer
$2,199.66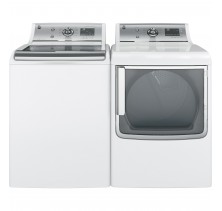 Washer & gas dryer
$2,298.59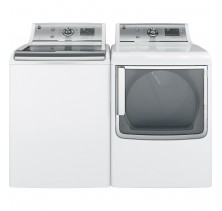 GE GFW450SSKWW Front Load Washer, Energy Star Efficient, 5 Cu. Ft. Capacity, 10 Wash Cycles, 5 Temperature Settings, Stackable, 1300 Washer Spin Speeds (RPM), White colour
Regular Price
$1,249.00
Savings
$149.18
After Savings
Width:

0"

Energy Star Efficient:

Yes

Cu. Ft. Capacity:

5

Wash Cycles:

10

Temperature Settings:

5
GE GTW860SPJMC Top Load Washer, 28" Width, Energy Star Efficient, 5.9 Cu. Ft. Capacity, 13 Wash Cycles, 1000 Washer Spin Speeds (RPM), Steam Clean, Metallic Carbon colour
| | |
| --- | --- |
| | |
| Regular Price | $1,599.00 |
| Savings | $200.24 |
| After Savings | |
Washer & electric dryer
$2,697.52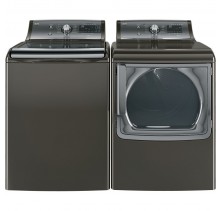 Washer & gas dryer
$2,797.52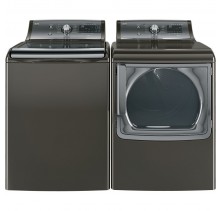 GE GFW450SPKDG Front Load Washer, Energy Star Efficient, 5.2 Cu. Ft. Capacity, 1 Wash Cycles, 5 Temperature Settings, Stackable, 1300 Washer Spin Speeds (RPM)
Regular Price
$1,349.00
Savings
$149.18
After Savings
Width:

0"

Energy Star Efficient:

Yes

Cu. Ft. Capacity:

5.2

Wash Cycles:

1

Temperature Settings:

5
GE GFW400SCKWW Front Load Washer, Energy Star Efficient, 4.8 Cu. Ft. Capacity, 7 Wash Cycles, Stackable, Whit colour
Regular Price
$1,149.00
Savings
$149.18
After Savings
Width:

0"

Energy Star Efficient:

Yes

Cu. Ft. Capacity:

4.8

Wash Cycles:

7

Stackable:

Yes
GE GTW330BMKWW Top Load Washer, 4.4 Cu. Ft. Capacity, White colour
Regular Price
$779.00
Savings
$180.00
After Savings
Width:

0"

Cu. Ft. Capacity:

4.4
GE GTW460BMKWW Top Load Washer, 4.9 Cu. Ft. Capacity, Steam Clean, White colour
Regular Price
$799.00
Savings
$200.00
After Savings
Width:

0"

Cu. Ft. Capacity:

4.9

Steam:

Yes
Show All