Lowest Price in Home and Kitchen
Appliances in Toronto, ON.. Guaranteed!
Thu 10am - 8pm
Toronto Showroom
(416)782-5900
Thu 10am - 8pm
Mississauga/Brampton
(905)766-3417
Store info >
600 Matheson Blvd West
,
Mississauga
,
ON
L5R 4B8

Authorized Dealer
Reviews for Maytag™ MGDB725BW Dryer
Maytag Bravos XL Series MGDB725BW Gas Dryer 29 in with 7.3 cu. ft. Capacity, 5 Temperatures, Advanced Moisture Sensing, Wrinkle Prevent Option, Refresh Cycle and Reversible Side-Swing Door
Regular Price:
$1,149.00
17% Off:

Ends Oct. 30

-$200.00
Today's Price: $

949.00

Free Gift with Purchase

Free Gift

Free

with a purchase of

$7,999.00

or more*

Free

with a purchase of

$6,999.00

or more*

*Before Taxes, Delivery, Additional Services and Warranty. Select products excluded, Certain Conditions apply.
Next Day GTA Delivery Available!
Subject to availability in your area. Enter you postal code to check.
Extended Warranty For This Product
2 Years:
$89.99
, 4 Years:
$139.99
Product covered with full Canadian manufacturer warranty.
Minimum 1 year in home repair, parts & labor included.

Printer Friendly
Washer & gas dryer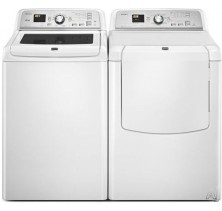 White
$1,747.00 CAD
Maytag MGDB725BW Reviews
This product has not been reviewed. Be the first to review it!